The Reserve Bank of India was established on April 1, 1935 in accordance with the provisions of the Reserve Bank of India Act, 1934.  The Central Office of the Reserve Bank was initially established in Kolkata but was permanently moved to Mumbai in 1937. The Central Office is where the Governor sits and where policies are formulated.  Though originally privately owned, since nationalisation in 1949, the Reserve Bank is fully owned by the Government of India.
RBI Recruitment 2023-24: Get latest RBI Recruitment 2023 notification for RBI Contract basis Pharmacist. 
Find Pharmacist across India here you will get all the information post in this site neetjeemedia.in .you can also get free job alert of "upcoming pharmacist recruitment 2023" notification for fresher and experienced. candidates.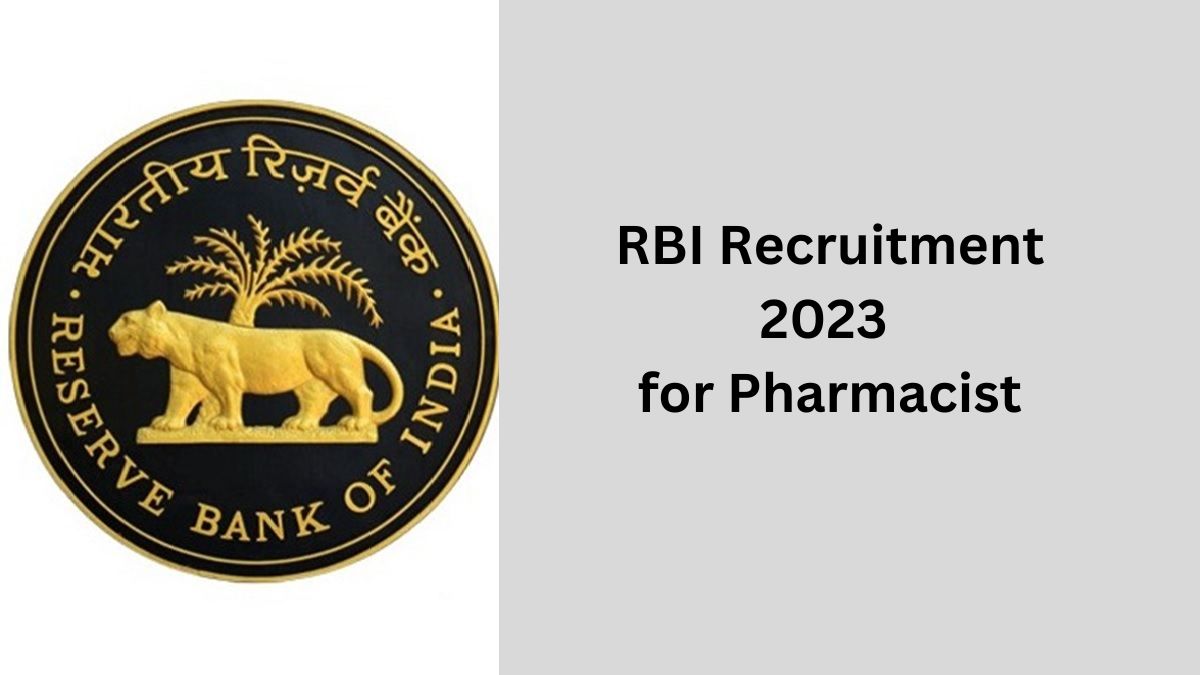 Latest RBI Pharmacist recruitment 2023:
Name of post – Pharmacist
Number of post – 04
Eligibility Criteria:
Educational qualification: Matriculation or its equivalent examination. Application should possess minimum qualification of diploma in pharmacy from recognized university registered under Pharmacy act 1948.
Application having Bachelors degree (B pharma) in Pharmacy can also apply for this post.
Experience:
Applicant should be registered with state pharmacy council.
Minimum 2 year experience as a pharmacist. Experience with PSB's/PSU's/Government organization preference.
Applicant should have basic knowledge of computer.
Remuneration, duty hours and other conditions.
Pharmacist will be paid a fixed remuneration at the rate of Rs.400/- per hour with a maximum period of five (05) hours per day, not exceeding maximum of Rs.2000/- per day and will not be entitled to any pay, allowance or any other perks/facilities.
• The offer of engagement shall be for a maximum period of 240 days at a stretch and purely on contractual basis.
• The Bank reserves the right to allocate any dispensary, at its discretion, located within Patna.
How can I apply for the RBI pharmacist Vacancy ?
The duly filled application should reach the Regional Director, Human Resource Management Department, Recruitment Section, Reserve Bank of India, South Gandhi Maidan, Patna (800) 001 on or before 17:30 hrs. on November 20, 2023
Interested & eligible candidates may apply as per the format given in Notification only.

Application in a sealed cover along with photocopies of certificates of Professional/Academic/Other qualifications, caste certificate, experience certificate, age proof etc.

Should reach the Regional Director, Human Resource Management Department, Recruitment Section, Reserve Bank of India, South Gandhi Maidan, Patna – 800 001 on or  before 17:30 hrs. of November 20, 2023.

The sealed cover should be super-scribed as 'Application for the post of Pharmacist on contract basis with fixed hourly remuneration
INSTRUCTION
1. All the details in the Application Form are to be filled up completely by the applicant, as
incomplete Form is liable to be rejected.
2. Self-attested copies of relevant certificates regarding age, educational qualifications,
experience certificate, caste Certificate, copy of registration certificate issued by Bihar State
Pharmacy Council etc. should be attached/enclosed with the application. Candidate must
complete the application in all respects including pasting of photograph.
3. If the candidate is working as a Pharmacist for any institution, the details thereof and
working hours therein should be indicated.
4. Incomplete application in any respect will be rejected and no correspondence will be
entertained by the Bank in this matter.
Selection Process
Candidates will be shortlisted on the basis of overall education qualifications
(PG/Degree/Diploma), distance of residence from various Bank's dispensaries,
experience with PSBs/PSU's/Government organization/RBI etc.
The Bank will conduct an interview for the shortlisted candidates. The Bank reserves
the right to raise the minimum eligibility standards in order to limit the number of
candidates to be called for the interview. The decision of the Bank in this regard shall
be final. Mere fulfilling of the eligibility criteria does not entitle the candidates to be called
for Interview.
Candidates shortlisted after the interview shall be subjected to medical examination and
document verification process before engagement as pharmacist. Please note that the
cost of medical tests shall have to be borne by the applicant/s themselves. No TA/HA &
any other allowances shall be paid for attending the interview.
A candidate will be engaged as pharmacist of the Bank subject to his/her being found
medically fit and on acceptance of Terms and Conditions and the Code of Conduct
(Annex II). The decision of the Bank in this regard shall be final and the Bank will not
entertain any correspondence in this regard.